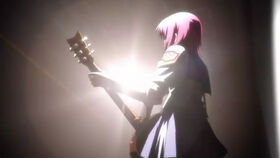 My Song is the 3rd insert song of the anime series Angel Beats!. It is part of the Keep the Beats! album.
Vocals: Iwasawa from Girls Dead Monster, who later disappears after she found peace in herself.
iradachi o doko ni butsukeru ka sagashiteru aida ni owaru hi
sora wa haiiro o shite sono saki wa nanimo mienai
joushiki butteru yatsu ga waratteru tsugi wa donna uso o iu?
sore de erareta mono daiji ni kazatteokeru no?
demo asu e to susumanakya naranai
dakara kou utau yo
My days end as I'm trying to find where to vent my irritation
The sky is gray, I can't see anything beyond
People who act like they have common sense are laughing; what kind of lie will they tell next?
How can they treasure what they obtain with those lies?
But we've got to move ahead, toward tomorrow
So I'm going to sing like this
naiteru kimi koso kodoku na kimi koso
tadashii yo ningenrashii yo
otoshita namida ga kou iu yo
konna ni mo utsukushii uso ja nai hontou no bokura o arigatou
You may be crying, you may be lonely
But that's perfect--that's what human is
The tears you shed say
Thank you for giving life to us--beautiful, honest, and real
kanaetai yume ya todokanai yume ga aru koto
sore jitai ga yume ni nari kibou ni nari hito wa ikiteikeru ndaro
tobira wa aru soko de matteiru
dakara te o nobasu yo
Having dreams you want to fulfill and dreams you can't reach
Is dream and hope in itself. That's enough for us humans to live on
There's a door, it's waiting there
So I will reach out my hand
kujiketa kimi ni wa mou ichido tatakaeru tsuyosa to jishin to kono uta o
otoshita namida ga kou iu yo
konna ni mo yogorete minikui sekai de deaeta kiseki ni arigatou
For you who have stumbled, I give you this song and the courage to fight once more
The tears you shed say
Thank you for the miracle of allowing us to meet in this sullied, ugly world
There's no curtain call
And there's no point in life at all
If each day ends and this bent heart of mine cannot heal
I can't see
a darn thing
But could it be
Gray clouds completely blinded me
They're souls like me and you
Who aren't aware of what they do
Always laughing in the face of danger and truth
Can't they see
Right through their hazy glee?
That nothing good comes of rushing in blindly
I'll keep moving on
No matter what may come my way
And I'll sing
Not fearing what they say
Deep in my heart
I know for sure
That you are hurt,
feel insecure
and surly crying
Because you are
only human
These tears of mine
Are screaming out
"It's not a lie"
and as I cry
I want to thank you
For showing me
What I could be
I won't let go
I thank you so
Yeah...
Try with all your might
But dreams only live in the night
I'm so tried of them always being out of reach
We don't realize
That the defeat's a disguise
Our fighting spirit is the flame of our souls
So I'll wait by that door
No matter what may come my way
And holding out my hand, I will say
If you are crushed
If you are hurt
Here is the strength
And the confidence
You have misplaced
If you feel down
Listen for my song
These tears of mine
Are screaming out
I found you
On this gray world
Without any blue
But you showed me
Every color
I'll hold your hand
And won't let go
I thank you so
--Amanda Lee
Community content is available under
CC-BY-SA
unless otherwise noted.