Shiori Sekine (関根 しおり Sekine Shiori) is the bassist of Girls Dead Monster, with a G&L L-2000 bass guitar as her playing instrument and Hartke HA3500 or 5500 (external aesthetics identical) as her amp, she likes to play pranks on those around her to see the surprised faces of her victims. She also likes to abruptly improvise during performances, which makes Hisako get mad at her. She is best friends with Miyuki Irie, whom she calls "Miyukichi". Although she isn't good at playing the bass, Hisako stood up as her guide during their practice performances. She is also seen singing backup for Masami Iwasawa when the band first performed "Crow Song" in the anime.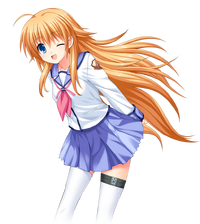 Sekine is a slim teenage girl of average height with slightly spiky thigh-length honey hair that has two strands of hair from behind her ears are usually seen down her shoulders with a small ahoge on her head and deep blue eyes.
Shiori's surname Sekine means "barrier" (関) (seki) and "root" (根) (ne).
Sekine was a contestant of the voting contest Anime Saimoe Tournament 2010, but she lost to Mio Akiyama in the first round of the main tournament.
Sekine has the same name with the only female member of the band Base Ball Bear.
Sekine bears a resemblance to Yusa Nishimori from Charlotte as they both have long blonde hair and blue eyes.
Community content is available under
CC-BY-SA
unless otherwise noted.